"My name is Reason Cansino. I was named Reason because my mother, Sarafina, thought it was prettier than Logic or Rationality or Intellect and had better nicknames, too. My mother believes in all those things: logic, reason, and the rest, and in mathematics..."

Reason Cansino's name is a badge of defiance: Reason and her mother have led nomadic lives in the Australian outback for Reason's entire life, on the run from Reason's grandmother, Esmeralda, and her horrifying superstitions and "smoke and mirrors" beliefs. But when Reason's mother loses her mind, Reason must go to stay with her Esmeralda and attempt to stave off the influence of her dark beliefs alone. Then she steps through a door in Esmeralda's Sydney house and emerges in New York City. There, she must not only grapple with the undeniable evidence that magic is real, but with the immediate dangers of her deep entanglement in it.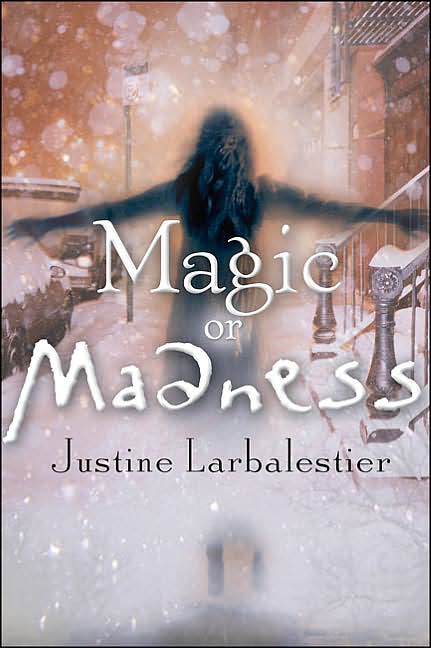 The substance of Justine Larbalestier's Magic or Madness lies in what isn't said - the ambiguities and the holes in the reader's knowledge that lie in just the right places. When it comes to her ability to capture your curiousity, to create questions in your mind, and to let just the right amount of answers trickle out of the plot at exactly the right rate, Larbalestier is seriously skillful, and she really puts the story's multiple POVs to work for her. Not knowing how much to explain (and when), how to do so, and what information to withhold or let the reader figure out seems to me to be a common pitfall, especially in fantasy and sci-fi novels, when there's more than usual in the story's world for the reader to figure out, but the author's spot-on intuition in that area in Magic or Madness is quite wonderful.

I also LOVED her characters. I think Reason may be one of my favorite fictional characters. She is absolutely terrific, so original, cool, real, and likeable (she's a little bit like the character that Lyra Silvertongue would have been if it were up to me). Tom is just a dear, but he still gets a role that arouses some of those delicious questions in your head, and as for Jay-Tee - her I like because she's fierce and sad and imperfect, and because I don't like her all the time! I'm so pleased that this book is only the first in the trilogy, because this absorbing "medium dark urban contemporary fantasy" is gourmet YA.

Grade: A-

P.S. Her blog is one of my favorite author blogs.