Maybe my favorite day in Queensland?

After church Summermoon and I have an informal surfing lesson with one of her friends. A rainstorm passes (one massive clap of thunder); the day is windy but not too cold, and this beach stays shallow for a ways out. The water thereabouts is the most excellent temperature. Queensland beaches overall, are marvelous. If I could have, I would have gone swimming every day.

Surfing was not super hard, but we had only slightly gotten the hang of it by the time our benevolent instructor needed to leave. The best things about it were being in the water, watching each other fall hilariously (at least, it was for me -- care to comment, Summermoon?), and being able to make references to having gone surfing. We did both get a couple waves where we stood up for the entire time. It was pretty sweet.


"We can suuuurf." So obvious, right.
Waiting for our ride home.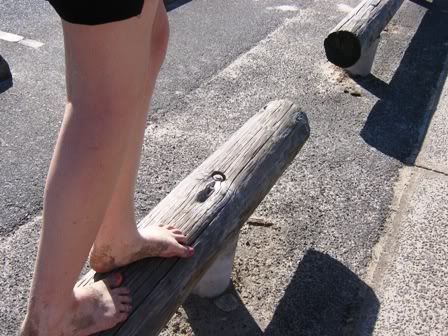 [jump]
Summamoon and her brotha.
We sit on the curb in our towels and wait for the ice cream truck to come back. [I have ice cream...five out of six days there, I think.]
Sit, sit. Sit.
Half hour, forty-five minutes.
Not coming, we figure. Shame. At this point we are just waiting for the family of Summermoon to be ready to go home, so we're leaning our faces against her van when we hear...THE ICE CREAM TRUCK SONG.
We turned to each other and SCREAMED. Not even voluntarily. Then we chased the ice cream truck in a loop around the entire parking lot [ahem, car park] in our bare feet and swimsuits.
Her brother laughed at us.
But there are NO words to describe the feeling that rose in our hearts when we heard that ice cream truck's cheery little tune. And we got ice cream.